Important Information
Get your degree sooner! Why not enroll in some of our summer courses?
If you've completed a FAFSA application for the 2018-2019 academic year and qualify for the Pell Grant, you can possibly be eligible to enroll in summer courses. Please visit the Financial Aid office to check your eligibility for summer aid.
---
HCC's New Federal Verification Process for 2019-2020
We have established a partnership with Inceptia to expedite the federal verification process. If your FAFSA application is selected for verification by the U.S. Department of Education, you will receive an introductory email at the email address you provided on the FAFSA. If no email was provided, you will receive an introductory postcard. The postcard will have our school logo along with Inceptia's, so you will know it is official. Please note, the deadline for submitting these documents is July 1, 2019. Failure to provide the requested documents could result in the delay or denial of financial aid.
Update for Students with Financial Aid
Financial Aid awarding is underway and applications are processed in the order they were received. While Housatonic Community College accepts applications all year, in order to ensure priority consideration, your application should be completed by July 1, 2019.
Financial Aid students should check their status in my.CommNet in mid-April, and complete any outstanding requirements to finalize their award.
Financial Aid Students should track their my.CommNet.edu site to make sure a Financial Aid Award is on their account before registering for classes; if not, there is a payment plan option.
Students should not register unless they are ready to make a payment at that time.
You must complete your FAFSA form on the web! The website for 2019-2020 is www.fafsa.ed.gov. You will get your results back sooner by applying online.
If you don't already have a FSA ID, you can create one when logging into the FAFSA website and clicking the link "Create an FSA ID". You'll need a FSA ID to electronically sign your FAFSA. If you are a dependent student, your parents should also apply for a FSA ID so they can electronically sign your FAFSA.
To apply for Financial Aid, you must complete a 2019-2020 FAFSA using your 2017 Federal Taxes and W2 form(s).
The student as well as parents must have completed their 2017 Federal Tax returns.
If you need assistance filing your application electronically, please call the Federal Student Aid Information Center at (800) 433-3243, or the Financial Aid Office at 203-332-5047.
Must I apply each year?
Eligibility for federal student aid does not carry over from one award year to the next. Therefore, you must reapply for aid each award year by completing and submitting a Free Application for Federal Student Aid (FAFSA). If you want to receive federal student aid for the 2019-2020 award year (July 1, 2019 through June 30, 2020), you must submit a 2019-2020 FAFSA.
Attending FAFSA Workshops
FAFSA Workshops
FAFSA workshops are designed to help you complete your free application for federal student aid (FAFSA). FAFSA is the main application that we use to determine your financial aid eligibility.
FAFSA Checklist
**FSA ID for student and/or parent MUST be obtained prior to workshop date by visiting http://fsaid.ed.gov
Student Information:
FSA ID or Valid E-mail address
Social security number
If you ARE NOT a U.S. Citizen but an eligible non-citizen Permanent Residence Card (Green Card) or Alien Number
Driver's license number (if you have one)
Current savings, investment, and business Information (if any)
2017 Federal Tax Returns & W2's (if filed, to complete 2019-2020 FAFSA)
***You are considered a Dependent Student and will need to provide parent's information if you are younger than 24, not married, have no children, never been in foster care or a ward of the court***
Parent's Information (If Applicable): (This checklist also applies to step-parents)
FSA ID or Valid E-mail address for at least one parent
Social security number
Date of Birth: Month/Day/Year
Month/Year: Married/Remarried, Separated, Divorced, or became widowed (If Applicable)
Current savings, investment, and business Information (if any)
2017 Federal Tax Returns & W2's (if filed, to complete 2019-2020 FAFSA)
For help completing your FAFSA, please attend one of the workshops below.
FAFSA Workshops will be available on the following dates: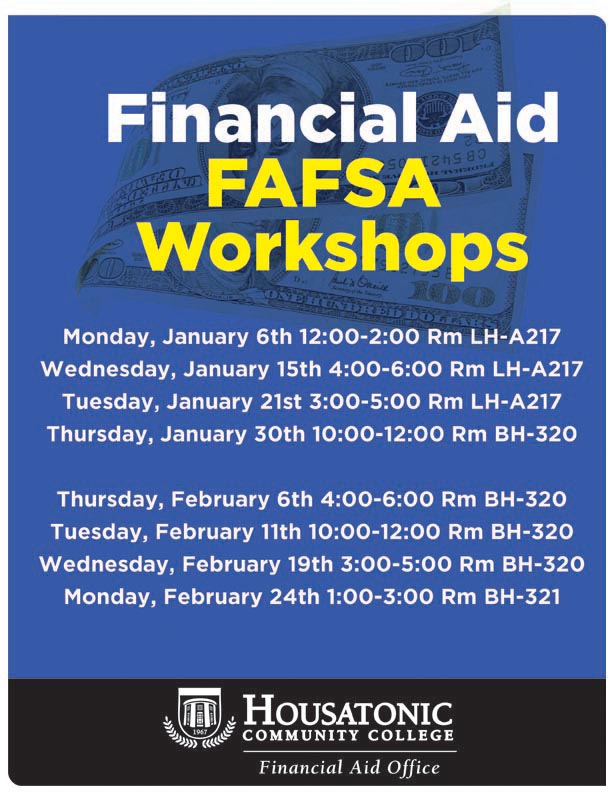 Monday, February 24th 1:00-3:00 Rm BH-321
Tuesday, March 10th 4:00-6:00 Rm BH-320
Thursday, March 26th 4:00-6:00 Rm BH- 320
Tuesday, April 7th 4:00-6:00 Rm BH-320
Thursday, April 23rd 4:00-6:00 Rm BH-320
Getting Your IRS Transcript
To obtain a copy of your Federal Tax transcript and W2 forms online, go to the IRS website at www.irs.gov.
To obtain a copy by phone, contact the IRS at (844) 545-5640 and follow the voice prompt.
To obtain a copy by mail, mail the IRS form 4506-T (or form 4506-T-EZ) to, or request a copy in person at, 915 Lafayette Blvd., Bridgeport, CT 06604. IRS forms are also available online at www.irs.gov.