Since 1984, Housatonic Community College has been offering classes at Law during the evening hours, taught by Housatonic staff. Classes cover the same material taught at Housatonic, and they offer the same three credits per class.
Classes are held at Law Mondays and Wednesdays evenings in concert with the Housatonic semester.
Courses include: Introduction to business, macro economics, micro economics, Western civilization, intermediate algebra, introduction to philosophy, general psychology, general psychology and development, principles of sociology, and composition.
---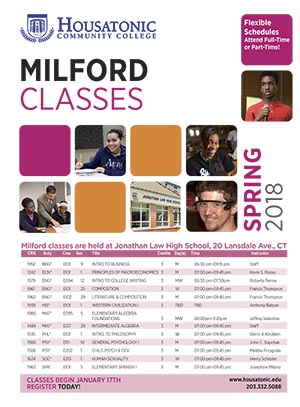 Click Here to Download!
File name: Jonathan Law and Weekend Information