The Housatonic Community College Foundation
1st Annual Alumni Hall of Fame Gala
Saturday, November 21, 2009
2009 Hall of Fame Inductees
John Evanich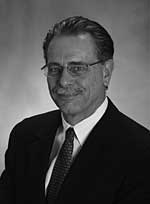 Mr. Evanich is a CPA and Tax Partner with the firm of J.H. Cohn, LLP in Glastonbury. After completing more than 50% of his undergraduate education at HCC, he made a "seamless transition," transferring his credits to the University of Bridgeport and earning his B.S. in Accounting, Cum Laude, in 1974. In 1982 he completed his course work and received an M.S. in Taxation from Pace University in New York.
In 2003, Mr. Evanich served as president of the Connecticut Society of CPAs, a professional organization with more than 6,000 members. "My entire professional career was a direct result of the opportunity afforded me by Housatonic Community College." he says. During his tenure as president, Mr. Evanich, the first community college graduate to attain the status of President in the history of the organization, succeeded in convincing the CSCPA Educational Trust Fund to offer scholarships to graduating community college students.
Through the years, Mr. Evanich has found opportunities to mentor youth through job shadowing, Junior Achievement, church programs and as a member of Housatonic Community College's Advisory Council. As a member of the professional and business community he had an opportunity to testify at legislative hearings and the U.S. House of Representatives Committee on Ways and Means on behalf of small businesses and individual taxpayers. He is a contributing author of "Starting a Small Business in Connecticut" through the Community Accounting Aid Services, Inc.
Mr. Evanich and his wife of 35 years, Barbara, have three children and four grandsons. Speaking of his induction into the "Alumni Hall of Fame," he reiterated his belief that Housatonic Community College was "absolutely critical to my achievements…"
---
Charlene Labate Santoro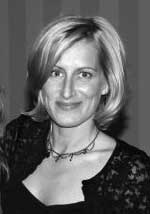 Charlene (Charlie) Santoro received her Associate Degree in Accounting and the Accounting Accomplishment Award at Housatonic Community College in 1999. This was the beginning of a long and well-conceived plan that brought her to her current position as a CPA and Manager at BlumShapiro & Co. in Shelton. "HCC was the launching pad that gave me the foundation to keep moving forward," she says. After completing her studies at HCC, Ms. Santoro went on to earn a BS in Financial Accounting at the University of New Haven in 2002 and an MBA in Finance in 2004. Describing herself as proactive, positive and persistent, Ms. Santoro adds that she earned her BS and MBA while working full-time and being a single mother. In addition, she was inducted into Phi Beta Kappa International Honor Society in 1998 and received the Danny Washington Scholarship for Academic Achievement and Community Service in 2001.
Ms. Santoro cited Professor John Tiber at HCC for helping her achieve academically and gain confidence in her abilities. "He was a master at gently pulling comments out of me and before long he couldn't keep me quiet if he tried," she said. The self-assurance built during those years was a steppingstone to opening doors later in her professional career.
Although time has always been in short supply, Ms. Santoro manages to add community service to her list of accomplishments. She currently volunteers with the School Volunteer Association of Bridgeport as a member of the Board of Directors' Finance Committee.
"The Distinguished Alumni Award is a wonderful surprise and an honor to me, my family and my firm, BlumShapiro," she said. "... my family was there with me along the way," she added saying that her two teenage sons are planning to attend HCC to get their start.
---
Mary Ann Vlahac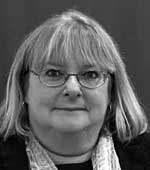 Mary Ann Vlahac lives her family philosophy that "education is the key to the doorway of life... learning a skill, contributing to the community..." through her professional and volunteer careers. Her induction into the "Alumni Hall of Fame" reaffirms her lifelong belief in education and community service.
After completing her Associate Degree at HCC, Ms.Vlahac transferred her credits to UCONN where she earned a BS. She then earned an MBA and completed her work toward a doctoral degree in Service Marketing. Now, along with her position as Marketing Director at Sikorsky Financial Credit Union, a cooperative not-for-profit, she has come "home" as an adjunct professor at HCC. Along with the satisfaction of sharing her skills and experience in her classes, "I...continuously learn from my students," she says. Thirty-five years after she graduated from HCC she says, "the circle is complete as I now share my business experiences with HCC students."
"You can take me out of Bridgeport, but you can't take Bridgeport out of me," says Ms.Vlahac, who was raised in a multi-generational household on the west side of Bridgeport. Family values and community values coincide in her professional and volunteer life within the greater Bridgeport and Stratford areas. She is a member of the Stratford Rotary Club who takes the organization's motto "service above self" to heart. Ms.Vlahac takes every opportunity to share her knowledge and ability as a mentor and adviser as an Ementor at Bunnell High School in Stratford, a counselor through the Women's Business Development Center, and a volunteer for a variety of Rotary programs. In 2009, she created and coordinated a program with the Stratford Chamber of Commerce, Rotary, and Stratford and Bunnell High Schools to teach Financial Literacy as a career choice for seniors. The same program was provided to Oxford High School.
As a student, teacher, community member and family member Ms. Vlahac says her parents taught her to do her best. Now, she says, "I'm sure they are saying "she's done her best" right now."
---
"All biographical information is based on the inductee's resume at the time of induction"
---
Here are some photos from our event!
---
Thank you to our 2009 sponsors!