The Housatonic Community College Foundation
4th Annual Alumni Hall of Fame Gala
Saturday, November 17, 2012
2012 Hall of Fame Inductees
Linda Bayusik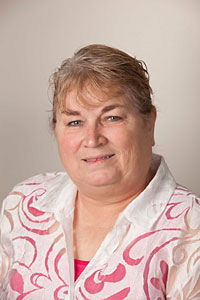 Linda Bayusik maintained a perfect 4.0 GPA and graduated from Housatonic Community College in 1996 with an Associate Degree with a major in Liberal Arts and Sciences: Communications and Journalism. While at HCC, Linda received the Board of Trustees Medallion, the Academic Dean's Award, the Dale Ward Scholarship Award, the Connecticut Post Award and the Journalism/Horizons Award. She was also named a Housatonic Scholar, became a member of the Phi Theta Kappa Society and was listed in Who's Who Among Students in American Junior Colleges.
In 1997, Linda began working at HCC as the Events Coordinator and started attending UCONN (Stamford). She graduated in 2001 with a Bachelor's Degree in General Studies with a focus in Communications and Writing. While there, she was inducted into the Golden Key National Honor Society and the Alpha Sigma Lambda Honor Society.
In 2009, Linda became Director of Student Activities at HCC. She served on the HCC Foundation board as a member and executive officer, and is now a board member emeritus. She also helped coordinate numerous fundraisers including the last three Alumni Hall of Fame Galas.
Linda has been, and continues to be, very active in the community. She volunteered for Make America Better, the Salvation Army, the Thomas Merton House and Habitat for Humanity. As a member of Black Rock Church, she helped with a house-build project for the show Extreme Makeover: Home Edition in Bridgeport; served on the Women's Ministry; and currently serves on the Care Ministries.
Linda says, however, that her most important volunteer work is that which she does for children with cancer, providing various means of support to them and their families. She attends childhood cancer awareness events and was the lead organizer of this year's St. Baldrick's Foundation fundraiser, "Line of Hope Connecticut." She is an outreach volunteer for Patient Airlift Services, and for the Rhode Island Blood Center, assisting with bone marrow drives in Connecticut.
Linda, and her husband David of 43 years, reside in Bridgeport, and have three married children: Charlene Santoro and David Bayusik of Shelton, and Bryan Bayusik of Beacon Falls. They have six grandchildren: Jake, Anthony, David, Logan, Brandon and Rylee. Linda's hobbies include boating, line dancing and spending time with her family.
---
Paul Piorek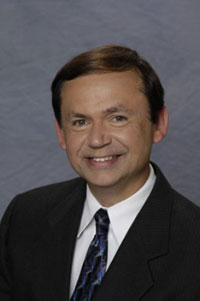 The value of hard work is something most students at Housatonic Community College understand, none more than Paul Piorek, who worked long, overnight shifts as a disk jockey in order to pay his tuition at HCC and advance his dream to work in electronic media. Paul maintained a perfect 4.0 GPA and graduated from HCC with an Associate of Science Degree in General Studies, then went on to earn his Bachelor's of Science Degree in Secondary Education/English at Southern Connecticut State University.
For the last 23 three years, Paul has put his education to the test as the Television Weathercaster for News 12 Connecticut/Cablevision in Norwalk, where he has become a favorite on-air personality with viewers. His determination to keep abreast of the latest technology as it relates to meteorology has kept him at the forefront of his career. His efforts have not gone unnoticed. He is a four-time winner of the Connecticut Associated Press Broadcasters' Association "Best Weathercast" Award, an Emmy award winner for television weather at the 50th annual National Association of Television Arts & Sciences awards banquet in New York, and has been voted Best Local TV Personality. Paul is also a very active member of the community. He has served as Master of Ceremonies or Moderator for dozens of charity, community and sports events, including the Make-A-Wish Foundation, Fairfield Special Olympics, and Bridgeport's Foster & Adoptive Care Community Forum. He has also been recognized for his years of dedicated service to people with special needs.
According to Paul, his greatest achievement (and joy!) has been the adoption years ago of his two sons, Billy and Eric, who graduated from high school and middle school respectively this year. (Paul is one of only a handful of single men who have adopted on their own.)
He and his sons live in Fairfield, where they enjoy, among many other activities, the entire HO-scale railroad village Paul built in their basement.
---
Kevin Russo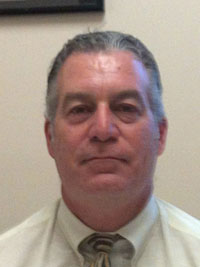 Kevin Russo serves as Supervisory Assistant State's Attorney for the State of Connecticut, with primary responsibility for supervising law enforcement officers during the pre and post-arrest phase of investigation involving some of the most serious cases within the jurisdiction. Additionally, he is the Chief Administrative Assistant for all criminal matters within the Judicial District of Ansonia/Milford.
Kevin is a true HCC success story, but things did not start out so easily for him. As a child, Kevin had a debilitating speech impediment, made worse by bullying, which led to feelings of low self-esteem and ultimately conditioned his decision to bypass college for a career as a laborer. But at age 23, he made the life-altering decision to give academia a second chance and enrolled at HCC. It almost didn't work: the mis-matching of him with a professor who couldn't see Kevin's potential almost brought his college days to an end. Fortunately, the intervention of Mary Eady, a Special Services Coordinator at HCC, got him back on track.
In 1986, Kevin earned his Associate in Science Degree. He progressed to Southern Connecticut State University, where he received his Bachelor's Degree in Business Economics. In 1991, he earned his Juris Doctor in Law from Western New England College School of Law.
Upon passing the Connecticut Bar, Kevin accepted a position as a professional writer with Connecticut Legal Research. He vowed then that he would apply to HCC as an adjunct professor to complete the circle that began with the short sighted professor telling him he could not write, and ended with his successful return to HCC as an adjunct professor, teaching Macroeconomic Theory and Application.
In addition to his high profile law career and his teaching, Kevin is a fundraiser for the Make-A-Wish Foundation; speaks on juvenile crime; and managed a "Scare Them Straight" program through Milford Superior Court. He was the recipient of the Trio Achievement Award sponsored by the National Council of Educational Opportunity Associations. Previously he managed a slow-pitch softball team that dedicated its entire season to raising funds for the Make-A-Wish Foundation, and because of those efforts, was honored by Parade magazine.
Kevin lives in Shelton with his wife Deborah Doyle Russo, and their three children: Rylee, and twins Ryan and Olivia.
---
"All biographical information is based on the inductee's resume at the time of induction"
---
Here are some photos from our event!
---
Thank you to our 2012 sponsors!