All gifts to the HCC Foundation Inc. are tax-deductible to the extent allowed by the Internal Revenue Service.
All donations will go to the General Fund to support Housatonic Community College programs and fund scholarships unless otherwise specified.
Give via credit card for one-time or recurring donations
To make a donation with your credit card, please click the button below. An electronic credit card receipt will be generated and a formal acknowledgement letter will be mailed. (Please use the electronic receipt and acknowledgement letter for your taxes and matching gift programs)
PERSONAL CHECK
Please make checks payable to the HCC Foundation Inc. and mail them to:
HCC Foundation Inc.
900 Lafayette Boulevard,
Beacon Hall Rm. 286
Bridgeport, CT 06604
CORPORATE MATCHING GIFT
Many U.S. companies match charitable donations made by their employees, directors or retirees, often the impact of a single gift to Housatonic Community College. If your company offers a matching gift program, please obtain a matching gift form from your employer and include this form when making a gift to the HCC Foundation Inc.
Check Donation: Mail your company's matching gift form along with all your details to the address noted above.
STOCKS, SECURITIES & PLANNED GIVING
If you donate appreciated marketable securities, you may be eligible for beneficial tax deductions and your gift will not be subject to capital gains tax. The HCC Foundation Inc. accepts direct transfers of securities. For more information on stock or security transfers, please contact Kristy Jelenik at or 203-332-5078.
More Planned Giving Information
---
WORKPLACE GIVING
Workplace giving is an easy, safe and cost-efficient way to make tax-deductible donations to Housatonic Community College Foundation. Donations through payroll are a form of steady unrestricted income which help the Foundation fulfill its mission for years to come.
If interested in workplace giving please fill out the form below or contact Kristy Jelenik at or (203) 332-5078.
Download Payroll Deduction Form Here.
---
OTHER WAYS TO GIVE
Amazon will donate 0.5% of the price of your eligible AmazonSmile purchases to Housatonic Community College Foundation Inc. whenever you shop on AmazonSmile. Click on the button below to access AmazonSmile.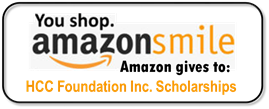 ---
Contact Us
Kristy Jelenik
Executive Director
Housatonic Community College Foundation Inc.
Phone: 203-332-5078