The Presidents Archive 
Housatonic Community College, Always Making History
Housatonic Community College is celebrating its 50th anniversary. Anniversaries are times of looking back and the history of the college assumes greater interest as we continue to move forward and plan for the future. How did we begin? What happened when? How? How has our
It is very easy to lose the threads of history. People with the knowledge in their heads leave and retire. Memories fade. Preserving Housatonic's history is the task of the Presidents Archive.
The Presidents Archive belongs to Housatonic. It endeavors to organize and save materials relative to the college, both those from the past and those current materials which will be tomorrow's past. 
Materials are accessible for research or other use.
We welcome anyone at Housatonic, any alumni, any interested person or friend of the college who has materials that would contribute to the story of Housatonic and its history to please contact the Presidents Archive at 203-332-5226 or  . The Archive will keep the material safe and available.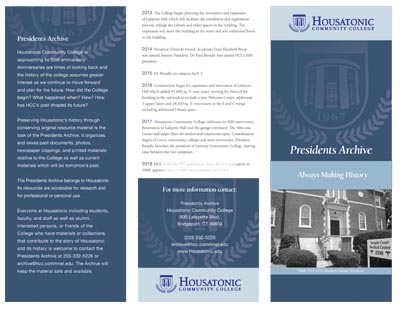 Download Now
File name: Strategic Plan