All you need is a U-Pass CT and your student ID to ride buses and trains in Connecticut. Get where you need to go without having to pay a fare!
---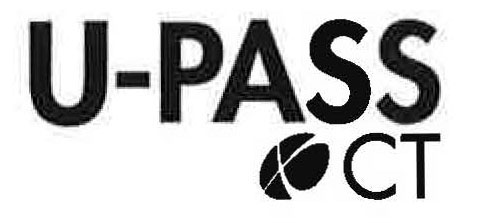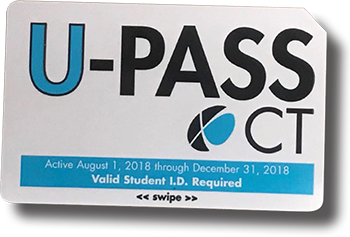 NEW! Beginning Fall 2017
Frequently Asked Questions
Who is eligible? - The UPass is available to both full and part time credit undergraduate students at the colleges and universities taking at least one class per semester on campus. In addition, at this time graduate students as well as exclusively online, noncredit and early college/high school students are not eligible for the program.
For how long is the pass effective? - The fall semester UPass covers August 1‐December 31, 2017. The spring semester UPass covers January 1‐July 30, 2018.
What is the cost? - Each student is charged $20 per semester for the pass. The DOT has set this special rate for our students only; normal cost to the public is $63 per month. The transportation fee is considered an institutional charge so financial aid may be applied.
How do students get the UPASS? - System office will get the passes to each school by August 1 and December 15 for distribution prior to the start of the term. There will be enough passes for all students but students are not obligated to pick up or use the card. Each school will keep a log of all passes disseminated with the student name and pass number to be submitted with their transfer of funds to System Office.
What is required for students to use pass and on what types of transportation can it be used? - Students must have a valid student ID to show along with their pass when using the transportation systems. Students can use the unlimited semester pass to travel within the state on rail or bus including CTtransit and CTfastrak, but excluding Amtrak.
What happens if student loses pass? - Schools may use their discretion on whether to charge a fee for replacement, but it is preferable that a student only be given one replacement pass per semester. After that, they must wait for the next semester to get a new pass.
What happens if student attends multiple CSCU schools? - The student should only be charged once for the pass. Students will have to request a waiver after the payment of the first fee.
Is the fee refundable if student withdraws? - Student fees, which include the transportation fee, are generally non‐refundable. Schools may use their discretion on this matter but because the student's UPass would be active until the end of the semester, schools should only refund the fee if the UPass is returned. Schools will not be reimbursed for waived fees once the transfer of funds to system office has been made and DOT paid.
How will the funds be paid to DOT and by whom? - Payment will be made by System Office to DOT twice a year and collected from each institution as part of the system operating transfer based on the actual amount collected by enrollment census date.
Who do colleges contact with problems? - Alice Pritchard, Chief of Staff or Erika Steiner, Chief Financial Officer at System Office are serving as the point people for this program.
---
Participating Colleges and Universities
Asnuntuck Community College, Enfield
Capital Community College, Hartford
Gateway Community College, New Haven
Housatonic Community College, Bridgeport
Manchester Community College, Manchester
Middlesex Community College, Middletown
Norwalk Community College, Norwalk
Three Rivers Community College, Norwich
Tunxis Community College, Farmington
Central CT State University, New Britain
Southern CT State University, New Haven
University of Connecticut, Hartford
University of Connecticut, Stamford
University of Connecticut, Storrs
University of Connecticut, Waterbury
---
Conditions of Use
U-Pass CT valid for use by students enrolled at UConn and participating CT State Colleges & Universities (CSCU). Eligibility to obtain a U-Pass is determined by the college or university.
U-Pass CT is valid for unlimited rides within Connecticut on local & express buses, CTfastrak, Shore Line East, and intrastate New Haven Line services.
This pass is not refundable or transferable.
Valid student ID from participating college or university must be shown at time of pass use.
Do not fold, bend, or place near magnet. Lost, stolen, or destroyed passes should be reported to issuing school.
U-Pass CT valid for the period of time printed on the face of the pass. Initial pass valid August 1, 2017 through December 31, 2017.
---
How to Use
Have your U-Pass and valid student ID ready when you board any of these services.
Greater Bridgeport Transit (gbt)
Norwalk Transit
Housatonic Area Regional Transit (HARTtransit)
Milford Transit
South East Area Transit (SEAT)
Windham Region Transit District (WRTD)
Magic Carpet
Northwestern CT Transit District (NWCTD)
9 Town Transit/Estuary Transit District
Middletown Area Transit (MAT)
CTtransit & CTtransit Express
Hartford
New Haven
Waterbury
Stamford
New Britain
Bristol
Meriden
Wallingford
CTfastrak
New Haven Line (Intrastate travel only. Not valid for travel to NYC)
Shore Line East ·
---
Need information on bus and rail services in Connecticut? Contact CTrides at ctrides.com or 877-CTrides