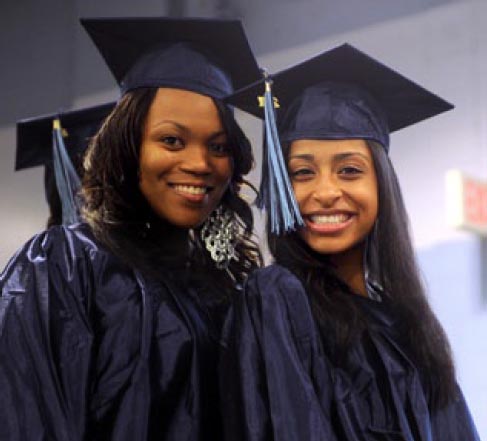 What is FESP?
Since 2015, the Family Economic Security Program (FESP) has been an innovative partnership between Housatonic Community College, the HCC Foundation and Fairfield County's Community Foundation Fund for Women and Girls. A pilot program of FESP first ran in Norwalk Community College for 5 years on a smaller scale, and was adapted from a national model developed by The Annie E. Casey Foundation.
FESP offers HCC students the necessary resources and tools needed to advance both their education, career and economic security for their families. It includes financial and career coaching, case management, emergency financial assistance, tuition scholarships, and peer-to-peer mentoring to help students persist and graduate with an Associate's degree or industry certificate, and move into family sustaining careers. Since the program's inception at HCC through Spring 2019, FESP has worked with 413 students.
FESP's goal is to not only keep students in college and strive to get all participants to graduate with an associate's degree, but it is also a program that prepares students for what's to come after they graduate. We help our students with the transfer process of attending a 4-year school, weighing the various options and costs; students receive career coaching and guidance while in school so that their academic goals are on par with their career goals. Applying to jobs, writing cover letters and resumes, and gaining skills through volunteer and internship work are encouraged during your studies at HCC.
FESP at HCC was recognized as an Innovative Educational Practice in 2017 by the Bridgeport Regional Business Council and a national finalist for the 2019 Bellwether Award. And, in the Fall 2018, FESP's innovative and effective model was adopted by Gateway Community College!
CREDIT CARD GIFT TO FESP
To make a donation to FESP with your credit card, click the button below and indicate FESP in the donation description. An electronic credit card receipt will be generated and a formal acknowledgement letter will be mailed. (Please use the electronic receipt and acknowledgement letter for your taxes)
Click Here To Donate!
---
Made possible (in part) by Fairfield County's Community Foundation's Fund for Women and Girls and the Housatonic Community College Foundation.